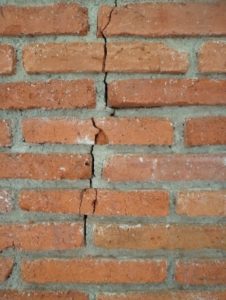 Subsidence (Failed Foundations) Ground Investigation in Northwood, Greater London, Caused by The Shrinkage of Founding Clays
JOB: NORTHWOOD, GREATER LONDON
CLIENT: LONDON BOROUGH OF HILLINGDON
DATE: FEBRUARY 2017
COST: ~ £4000
PURPOSE: 
Signs of subsidence were present in a number of locations around a block of flats, with cracks present on internal and external walls. Sub Surface proposed a two stage approach, a Phase 1 Desktop Study followed by a Phase 2 Site Investigation to identify the possible causes and to recommend suitable remedial works.
PHASE 1 DESKTOP STUDY AND WALKOVER SURVEY: 
The historical appraisal showed the site to comprise of fields until 1915, when a detached residential property was built, which was later redeveloped into flats in the early 90s. The geological appraisal showed the site to be underlain by the London Clay Formation, which was indicated to be a moderate risk from shrinking/swelling of clays, and as the walkover survey showed a number of large trees (approximately 20m) along with a number of other trees and hedgerows to be within close proximity to the building, the possibility of subsidence due to desiccation of the founding clays was highly likely.
PHASE 2 SITE INVESTIGATION: 
The site investigation included:
A number of mini boreholes determining the ground conditions beneath the site, allowing safe bearing pressures to be calculated to ensure the building was founded on suitable ground and for use in the design of any remedial measures.
A number of trial pits exposing the foundations of the building, determining the founding depth, the type of foundations and the ground the building was founded one. As well as obtaining samples of tree roots surrounding the building for analysis.
Laboratory testing (Atterberg limit tests, soluble sulphate content and pH value tests, tree root analysis)
A Tree Survey by an Arboriculturalist to identify the trees on site and distance from the building.

 
CONCLUSIONS AND RECOMMENDATIONS: 
The site investigation concluded that as the building was within the zone of influence of a number of trees from low water demand trees to high water demand trees and the clay beneath the site was of high volume change potential, the subsidence was due to shrinking of the founding clay strata caused by the trees surrounding the building.
OUTCOME:
A suitable underpinning scheme supporting the current foundations was recommended to prevent any further movement, along with the removal of trees or a continuing programme of pruning to maintain the trees at an acceptable height within the zone of influence.